Hullo and happy new year! Hope everyone had a nice time :) One of my pics I did back in 2011 for the LOTR card game just came out in the Heirs of Numenor pack, the Ithilien Road! Was never quite happy with this one, but there ya go.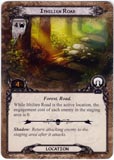 On the flight from London to Vancouver, I drew some thumbnail environments, super rough, and some even drawn during the horrible turbulence we had!
Getting ready to play Halo 4, as soon as my jetlag wears off :) Dishonored, Far Cry 3, Resident Evil 6...nevermind Devil May cry and Ni No Kuni coming out this month! Exciting :D
Bai for now!